Location:
Bordeaux
School certificate
Duration: 6 months + 2-month internship
Taught in
100% French or 100% English
Next available session: January 2021
With just over 30,000 businesses—one bakery for every 1800 inhabitants—bakeries and pastry shops are at the forefront of food retail in France. With 340 visits per day on average, they are also the leaders in French food businesses in terms of number of visits.*
Within this positive context, Institut Culinaire de France offers short, intensive, high-standard training courses enabling students to access employment in this continually evolving and dynamic industry.
This training is aimed at those with no previous baking experience. The teaching implemented combines technical skills with the highest standards in order to ensure students find employment quickly and effectively, and also offer them the possibility to establish or take over a bakery and bring their individual identity to it.
Pace of Study
The training implemented in this six-month programme is an English and an innovative version of the traditional French Foundation program (CAP- Certificate of Professional Competence) a vocational qualification. Trainees are immersed in intensive practice every day (seven hours per day in the lab) and coached by talented chef-instructors who encourage them to give it their best.
The course is enriched by renowned visiting bakers (master bakers, Meilleurs Ouvriers de France bakers) who contribute to the candidates' success in the final exam.
Course advantages
High-end facilities: two baking labs, entirely equipped with material made in France, hosting up to 16 students at a time, ergonomically designed to facilitate exchanges between students and chef-instructors
Intensive training: seven hours of classes per day in the lab
Motivated and acclaimed teaching staff
Cross-curricular teaching (management, food design, nutrition, hygiene) enabling students to become experienced and autonomous professionals of their time
Two-month obligatory work placement with an artisan
Candidates/requirements
Jobseekers
Career switchers
Students
*Sources: Confédération Nationale de la Boulangerie Pâtisserie Française, Chambre Professionnelle des Artisans Boulangers-Pâtissiers de Paris, Fédération des Entreprises de Boulangerie.
Classes
Intensive practical training in the lab (455 hours)
Bakery technology (48 hours)
Applied technology in the lab (45 hours)
Communications (24 hours)
Business knowledge (20 hours)
Environmental Health and Safety (PSE) and First Aid (SST) (15 hours)
Health and food safety (12 hours)
Professional work placement (280 hours)
Theoretical & practical knowledge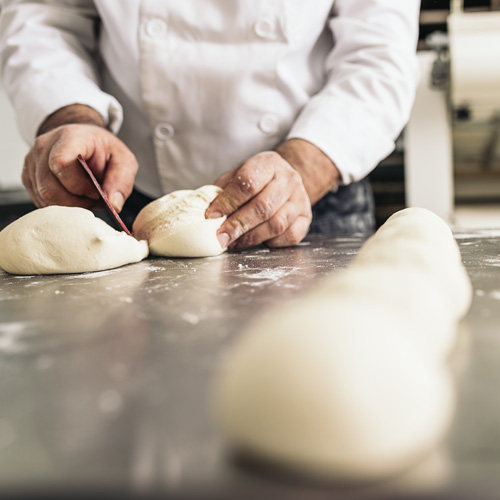 Development of practical skills: supply, receipt of goods, detecting quantitative and qualitative anomalies, storage
Production/Manufacturing: putting a workstation in place, calculating raw materials, implementing various methods of kneading, weighing and shaping, monitoring various fermentation methods, putting in the oven and controlling cooking and cooling, identifying defects and presenting products for sale
Baking and other products: French sourdough, wholemeal bread and rye bread, making rolled puff pastry products, croissants, chocolate croissants, two-colour breads, making leavened dough products, pain au lait, brioche, pastries, etc.
Maintenance and safety: cleaning and disinfecting premises, equipment and materials, checking the correct operation of equipment and safety devices
Quality control: checking the conformity of raw materials and products throughout the manufacturing process, checking weights and quantities, checking the appearance of finished products
Technology: history of baking, professional vocabulary, personnel and workstations, equipment, organisation methods, supply, preservation methods and inventory management
Raw materials: manufacturing techniques and finished products, sensory education, hygiene and food safety
Know-how: organising, tabling, adding water or flour to dough, conducting fermentations, dividing and shaping dough pieces, forming various shaped dough pieces, multiple scoring, putting in the oven using a baking mat and spatula, managing cooking and cooling, selling and displaying products for sale
Damien Julia
Damien Julia has worked for many gourmet restaurants including those at the Intercontinental Hotel in Geneva, the Grand Hotel in Paris, the Crillon, the Hilton Arc de Triomphe and even the QE2 cruise ship. After graduating with a professional qualification in catering from the Louis Darmanté Hotel School in Capbreton and a degree in hotel management from the University of Brighton in England, he moved abroad several times before returning to France and entering the world of training. He began teaching at CFA Médéric in Paris before becoming Director of Le Cordon Bleu Paris school in 2010 and then of the ateliers Ferrière at Ecole Ferrière in 2015. Finally, in 2016 he took advantage of his diverse experience and set up his own company, Education and Culinary Arts Consulting, which provides market research on the evolution of culinary training.
---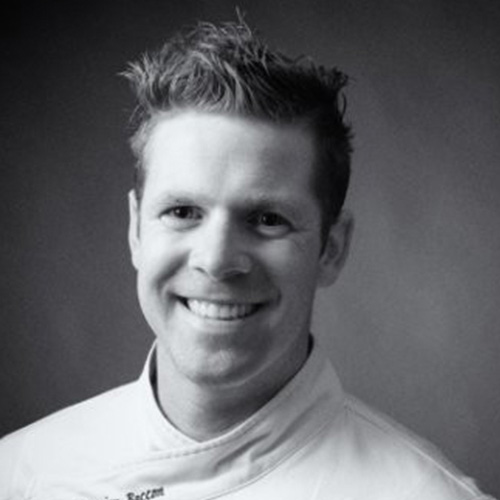 Damien Baccon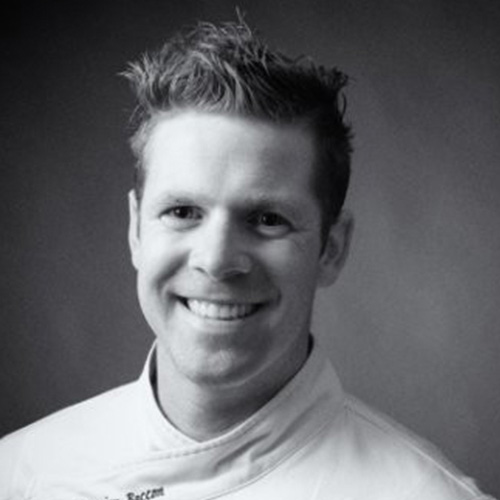 Born into a family of bakers for four generations, Damien Baccon trained in baking at INBP. He worked for Joël Robuchon's Michelin-starred restaurants in Las Vegas and then worked as an international consultant in China and the Middle East. He then turned his hand to teaching at ENSP alongside Jean-Marc Guillot, Meilleur Ouvrier de France (Best Artisan of France) in 1997 and World Pastry Champion in 1993. He is now a bakery consultant mainly in Asia and Europe and is a member of the Ambassadeur du Pain association.
---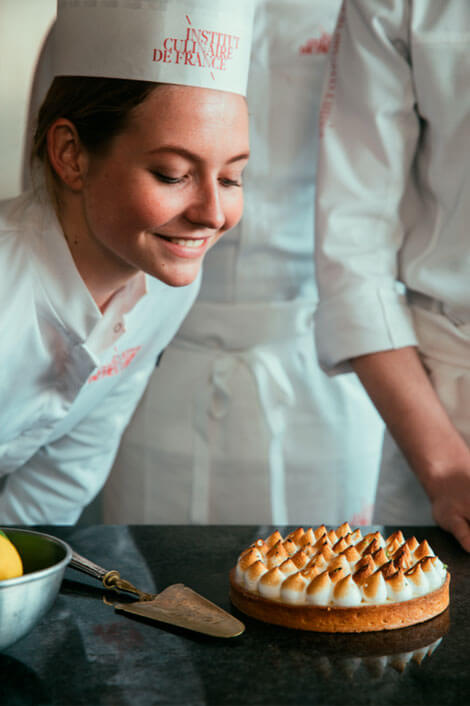 Requirements
This program is open to candidates that have completed secondary education (French Bac level). Strong motivation is paramount.
Fees
€18,300 per session
Applications
An application request must be made through the website. Within the next 48 hours, the candidate will receive an invitation for an interview, either in person or via video-conference. This enables the candidate's motivation and level of English to be evaluated. Basic knowledge of French is necessary for the course. The candidate will be informed of the outcome in the days following the interview.
Enrollment
A registration form will be sent to successful applicants. This must be completed and returned to Institut Culinaire de France along with the requested documents within 30 days.
Visa application
Once your enrollment has been confirmed, you will receive an enrollment confirmation letter. This document is necessary to request your visa from the French consulate in your country. According to French law, any stay of a duration exceeding 90 days requires a long-term visa. However, for some nationalities, a visa may be required for any length of stay. This procedure might take a considerable amount of time. As such, we advise students to start their visa application upon receipt of their acceptance letter.