Location:
Bordeaux
Graduation National diploma
Duration: 6 months + 2-month internship
Taught in
French
The "Ice cream Artisans" Vocational Retraining program is designed for adults going through a career change and for students interested in the craft.
This 6-month work-study program focuses on the hands-on contents of the French national CAP certifcate for "Ice creams and sorbets". The Institut Culinaire de France ofers a unique professional and business approach.
Imagining a new concept of ice creams and sorbets boutiques, delighting customers with new healthy and savory recipes, reconciling business development with sustainability: the training combines the artisanal know-how and business acumen that students will need in order to make their professional projects become a reality.
There are several key highlights in the training: welcoming the students and introducing them to the larger context of professional ice creams and sorbets making. Then, delving into hands-on practice and working under the supervision of renowned professionals (master glaciers and Meilleurs Ouvriers de France).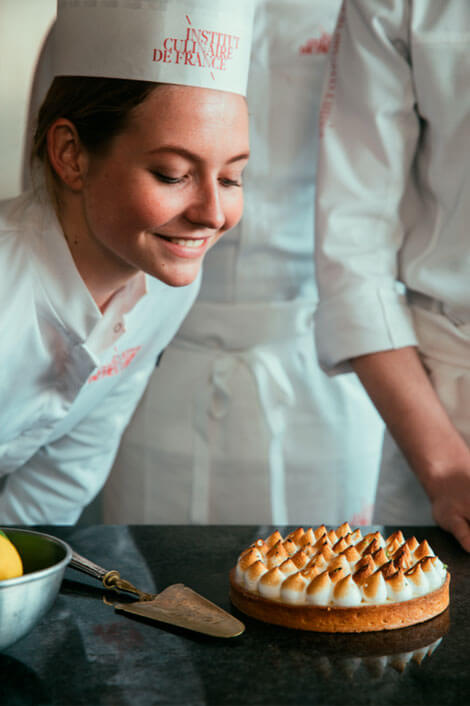 Requirements
This program is open to candidates that have completed secondary education (French Bac level). Strong motivation is paramount.
Finance
Programs eligible for financial support through French services (OPCA / OPCO, CPF, etc.).
Applications
An application request must be made through the website. Within the next 48 hours, the candidate will receive an invitation for an interview, either in person or video-conference (Skype). The candidate will be informed about the results following the interview.
Admissions
A registration form will be sent to successful applicants. The form must be filled and returned to Institut Culinaire de France within 30 days, along with required documentation.
Visa application
Once his admission is confirmed, the candidate will be issued an acceptance letter. This letter is required for his visa application in the French consulate in the applicant's respective country. According to French law, any stay longer than 90 days requires a long-term visa. However, depending on his nationality, a visa may be required for any length of stay. This procedure might take a considerable amount of time. Therefore, we advise the future students to start their visa application upon the receipt of their acceptance letter.