Location:
Bordeaux
Bachelor's degree
Duration: 3 years
Taught in
100% French or 100% English
Next available session: January 2021
The "Chocolate & Business" Bachelor's degree is designed to train qualifed entrepreneurs in the chocolate sector. It draws on the strengths of the Galileo Global Education Group, which includes many renowned schools in the domains of management, marketing, creative arts and communication.
The particularity of this training is that it takes a "bean to bar" approach, providing our students with a wide scope of knowledge, from artisan techniques to the agronomics of cocoa (regional and vintage) cocoa tasting, fostering the discovery and protection of ancient cocoa varieties.
Throughout their training, students are placed in a practical industry context. Taking into account current applicable legislations, they are tasked with designing their own line of products, from packaging to pricing, including shop design and promotional strategies. It is also compulsory that the students devise and implement a print and digital marketing strategy (animate social media, management of communication tools, and customer care).
Course advantages
Location

 in a city known for its 

gastronomy

 and the 

quality of its local products

High-end facilities: two baking labs, entirely equipped with material made in France, hosting up to 16 students at a time, ergonomically designed to facilitate exchanges between students and chef-instructors

Intensive 

training

: 7 hours of classes per day in the laboratory

Motivated and acclaimed teaching staff

Cross-curricular teaching

 (management, design, marketing, dietetics, hygiene) allowing students to become independent professionals

Five-month work placement per year
Classes
Intensive practical laboratory training

 (300h/year)

Marketing / Management (in partnership with ESG business schools)

: to forge and sharpen your entrepreneurial skills

Nutrition and health

: to target the nutritional balance of culinary creations

Biochemistry

: to know and identify the properties of a food and keep all its flavor

Culinary design (in partnership with LISAA school of design)

: for the ultimate search for visual and taste beauty

Digital training (in partnership with Digital Campus)

: to master social networks and improve the projection capacity of the taste experience

History of gastronomy

: for the transmission of the French culinary tradition

Design / styling

: for monitoring trends and highlighting products

Foreign languages

: for the international ambitions of the artisans of tomorrow

Soft skills (in partnership with Cours Florent)

: to enrich students' relational skills

Company internships

 (280h/year)
Theoretical and practical knowledge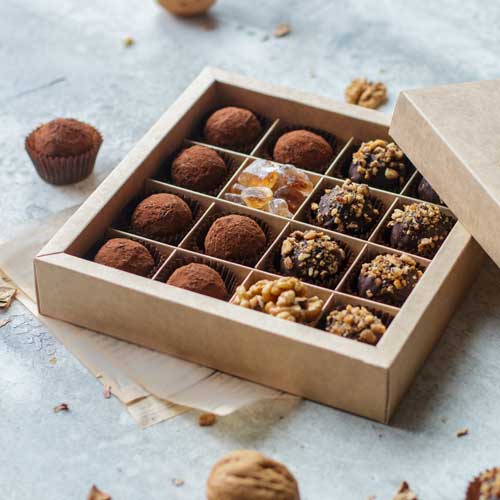 Tempering chocolate

 (chocolate tempering methods, tabling, seeding), moulding and making commercial arrangements (moulding techniques, chocolate cutting, chocolate spraying), creation of chocolate decorations (chips, fans, strips, openwork decorations, thickened chocolate), introduction to artistic chocolate pieces

Chocolate confectionery

: manual coating techniques and chocolate filling; making ganaches to coat, mould, sculpt; ganaches infused with fruit, butter, alcohol, truffles; fillings made from praline, marzipan, fondants; two-layer confectionary and fruit jelly; canapés and snacks; introduction to automatic machine coating and coating chocolate balls

Confectionery

: French pink pralines, nougat, caramels, berlingots, marzipan, pralines, gianduja, marshmallows, candied fruits, fruit jellies, jelly candies

Creative chocolate pieces

: cutting chocolate, spraying subjects, modelling

Chocolate decorations

: elaborate techniques of chocolate decoration

Chocolate-based pastries

: desserts, classic and modern pies, cakes
Damien Julia
Damien Julia has worked for many gourmet restaurants including those at the Intercontinental Hotel in Geneva, the Grand Hotel in Paris, the Crillon, the Hilton Arc de Triomphe and even the QE2 cruise ship. After graduating with a professional qualification in catering from the Louis Darmanté Hotel School in Capbreton and a degree in hotel management from the University of Brighton in England, he moved abroad several times before returning to France and entering the world of training. He began teaching at CFA Médéric in Paris before becoming Director of Le Cordon Bleu Paris school in 2010 and then of the ateliers Ferrière at Ecole Ferrière in 2015. Finally, in 2016 he took advantage of his diverse experience and set up his own company, Education and Culinary Arts Consulting, which provides market research on the evolution of culinary training.
---
Kyung Ran Baccon
World Pastry Championship silver-medallist (SIGEP Rimini 2012), finalist Pastry Meilleur Ouvrier de France (Best Artisan of France) in 2015, trained in fine arts and sculpture in South Korea, graduated with a CAP, BP, BM in pastry with honors from INBP in Rouen. Kyung Ran Baccon has worked as a pastry sous-chef for Joël Robuchon's two Michelin-starred restaurants in Las Vegas, has been an instructor in major hotels and a consultant to several international companies (in Saudi Arabia, South Korea and China).
---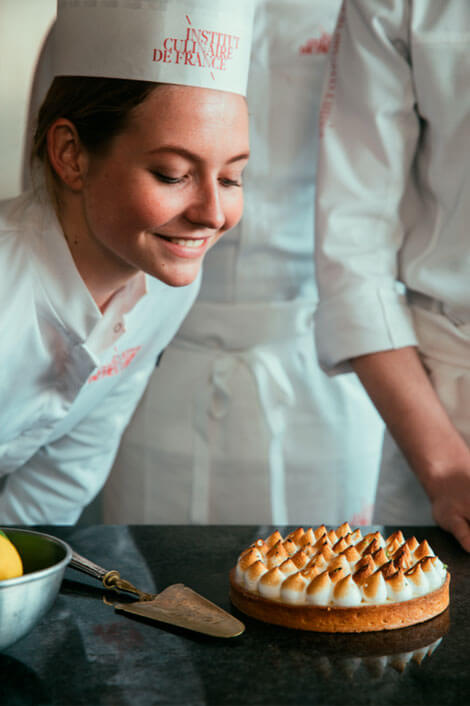 Requirements
This program is open to candidates with strong motivation and to people with previous work experience (job seekers, those changing careers...).
Applications
An application request must be made through the website. Within the next 48 hours, the candidate will receive an invitation for an interview, either in person or via video-conference. This enables the candidate's motivation and level of English to be evaluated. Basic knowledge of French is necessary for the course. The candidate will be informed of the outcome in the days following the interview.
Fees
€9,900 per annum
Enrollment
A registration form will be sent to successful applicants. This must be completed and returned to Institut Culinaire de France along with the requested documents within 30 days.
Visa application
Once your enrollment has been confirmed, you will receive an enrollment confirmation letter. This document is necessary to request your visa from the French consulate in your country. According to French law, any stay of a duration exceeding 90 days requires a long-term visa. However, for some nationalities, a visa may be required for any length of stay. This procedure might take a considerable amount of time. As such, we advise students to start their visa application upon receipt of their acceptance letter.