Location:
Bordeaux
Bachelor's degree
Duration: 3 years
Taught in
100% French or 100% English
Next available session: January 2021
The "Pastry & Business" Bachelor's degree is designed to train qualifed entrepreneurs in the pastry sector. It draws on the strengths of the Galileo Global Education Group, which includes many renowned schools in the domains of management, marketing, creative arts and communication.
This innovative program is unique: its curriculum includes an in-depth knowledge of high-quality pastry production as well as a solid foundation in nutrition and dietary balance, with an accent on business and management.
This program also raises students' awareness of sustainable development subjects: organic products, energy and waste management, short supply chains, fair trade, etc. Furthermore, students are encouraged to take a full-cycle approach: during the idea conception phase of their pastry selections, they will also have to plan how to provide a high quality service, considering customer information, promotional materials (flyers, iconography, packaging, etc.), new recipe tastings, ongoing communication with customers, etc.
Renowned pastry professionals regularly participating in master-classes and as exam juries, allowing our students to be in guided by the industry's fnest. Students will also be required to complete a 5-month internship each year, aimed at providing them with insight and practical knowledge, easing their professional transition.
The strengths of the training
Location

 in a city known for its 

gastronomy

 and the 

quality of its local products

High-end facilities

: 16 students maximum per lab, ergonomic work stations facilitating exchanges between students and chef-instructors, state-of-the-art equipment and high-quality ingredients

Intensive 

training

: 7 hours of classes per day in the lab
Motivated and acclaimed teaching staff

Cross-curricular teaching

 (management, design, marketing, dietetics, hygiene) allowing students to become independent professionals

Work placement

 in a company
Classes
Intensive practical laboratory training

 (300h/year)

Marketing / Management (in partnership with ESG business schools)

: to forge and sharpen your entrepreneurial skills

Nutrition and health

: to target the nutritional balance of culinary creations

Biochemistry

: to know and identify the properties of a food and keep all its flavor

Culinary design (in partnership with LISAA school of design)

: for the ultimate search for visual and taste beauty

Digital training (in partnership with Digital Campus)

: to master social networks and improve the projection capacity of the taste experience

History of gastronomy

: for the transmission of the French culinary tradition

Design / styling

: for monitoring trends and highlighting products

Foreign languages

: for the international ambitions of the artisans of tomorrow

Soft skills (in partnership with Cours Florent)

: to enrich students' relational skills

Company internships

 (280h/year)
Theoretical and practical knowledge 
Choux pastry: 

eclairs, religieuse cream puffs, Saint Honoré, Paris-Brest, Salombo, etc.

Traditional and modern pies: 

shortcrust pastry, sweet shortcrust pastry, sweet pastry, apple pie, pear tart, lemon tart, chocolate pie, etc.

Puff pastry: 

turning methods, millefeuille, savoury pancakes, apple turnovers, savoury petit fours, etc.

Traditional and modern desserts and small cakes: 

charlotte, opera, black forest, strawberry cream cake, etc.

Petit fours and cakes: 

biscuits, madeleines, financiers, macarons, lemon cakes, etc.

Pastries: 

croissants, couques, brioches, babas, navette biscuits, etc.

Introduction to chocolate making: 

tempering, decorating, etc.

Introduction to ice-cream making: 

mixing, churning, etc.

Introduction to bread making:

 speciality breads, flavoured breads, traditional breads, etc.
Damien Julia
Damien Julia has worked for many gourmet restaurants including those at the Intercontinental Hotel in Geneva, the Grand Hotel in Paris, the Crillon, the Hilton Arc de Triomphe and even the QE2 cruise ship. After graduating with a professional qualification in catering from the Louis Darmanté Hotel School in Capbreton and a degree in hotel management from the University of Brighton in England, he moved abroad several times before returning to France and entering the world of training. He began teaching at CFA Médéric in Paris before becoming Director of Le Cordon Bleu Paris school in 2010 and then of the ateliers Ferrière at Ecole Ferrière in 2015. Finally, in 2016 he took advantage of his diverse experience and set up his own company, Education and Culinary Arts Consulting, which provides market research on the evolution of culinary training.
---
Kyung Ran Baccon
World Pastry Championship silver-medallist (SIGEP Rimini 2012), finalist Pastry Meilleur Ouvrier de France (Best Artisan of France) in 2015, trained in fine arts and sculpture in South Korea, graduated with a CAP, BP, BM in pastry with honors from INBP in Rouen. Kyung Ran Baccon has worked as a pastry sous-chef for Joël Robuchon's two Michelin-starred restaurants in Las Vegas, has been an instructor in major hotels and a consultant to several international companies (in Saudi Arabia, South Korea and China).
---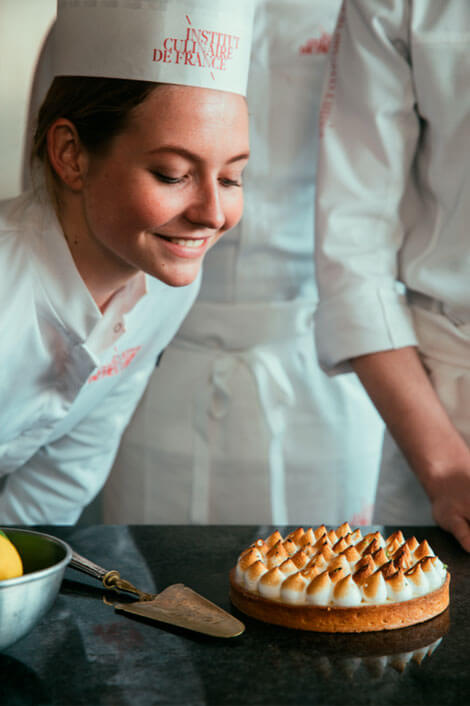 Requirements
This program is open to candidates with strong motivation and to people with previous work experience (job seekers, those changing careers...).
Applications
An application request must be made through the website. Within the next 48 hours, the candidate will receive an invitation for an interview, either in person or via video-conference. This enables the candidate's motivation and level of English to be evaluated. Basic knowledge of French is necessary for the course. The candidate will be informed of the outcome in the days following the interview.
Fees
€9,900 per annum
Enrollment
A registration form will be sent to successful applicants. This must be completed and returned to Institut Culinaire de France along with the requested documents within 30 days.
Visa application
Once your enrollment has been confirmed, you will receive an enrollment confirmation letter. This document is necessary to request your visa from the French consulate in your country. According to French law, any stay of a duration exceeding 90 days requires a long-term visa. However, for some nationalities, a visa may be required for any length of stay. This procedure might take a considerable amount of time. As such, we advise students to start their visa application upon receipt of their acceptance letter.