Location:
Bordeaux
Graduation Bachelor's degree
Duration: 3 years with a 5-month internship/year
Taught in
100% French or 100% English
The "Chocolate & Business" Bachelor's degree is designed to train qualifed entrepreneurs in the chocolate sector. It draws on the strengths of the Galileo Global Education Group, which includes many renowned schools in the domains of management, marketing, creative arts and communication.
The particularity of this training is that it takes a "bean to bar" approach, providing our students with a wide scope of knowledge, from artisan techniques to the agronomics of cocoa (regional and vintage) cocoa tasting, fostering the discovery and protection of ancient cocoa varieties.
Throughout their training, students are placed in a practical industry context. Taking into account current applicable legislations, they are tasked with designing their own line of products, from packaging to pricing, including shop design and promotional strategies. It is also compulsory that the students devise and implement a print and digital marketing strategy (animate social media, management of communication tools, and customer care).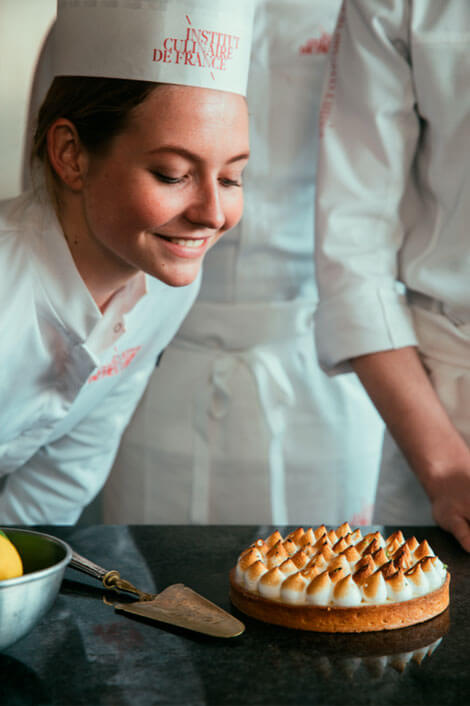 Requirements
This program is open to candidates with strong motivation and to people with previous work experience (job seekers, those changing careers...).
Applications
An application request must be made through the website. Within the next 48 hours, the candidate will receive an invitation for an interview, either in person or video-conference (Skype). The candidate will be informed about the results following the interview.
Admissions
A registration form will be sent to successful applicants. The form must be filled and returned to Institut Culinaire de France within 30 days, along with required documentation.
Visa application
Once his admission is confirmed, the candidate will be issued an acceptance letter. This letter is required for his visa application in the French consulate in the applicant's respective country. According to French law, any stay longer than 90 days requires a long-term visa. However, depending on his nationality, a visa may be required for any length of stay. This procedure might take a considerable amount of time. Therefore, we advise the future students to start their visa application upon the receipt of their acceptance letter.