Location:
Bordeaux
Graduation Bachelor's degree
Duration: 3 years with a 5-month internship/year
Taught in
100% French or 100% English
The "Bakery/Snacking & Business" Bachelor's will train ambitious entrepreneurs in the Bakery/ Snacking industry.
This innovative program is a oneof-a-kind: its curriculum includes both in-depth knowledge of high-quality bread production and also a solid foundation in nutrition and dietary balance.
The program also raises students' awareness of sustainable development: organic products, energy and waste management, short supply chains, fair trade... Furthermore, students are encouraged to take a full-cycle approach: when first thinking about their choice of bread varieties, snacks and pastries, they will also have to plan how to provide a high quality service, considering customer information, promotional materials (flyers, iconography, packaging, etc.), new recipe tastings, communication with customers, and more.
Renowned professional bakers regularly provide master-classes and participate in juries, which allows our students to be in contact with the best in the industry. Students will also complete a 6-month hands-on internship each year which provides them with deeper knowledge and eases their transition into the professional baking world.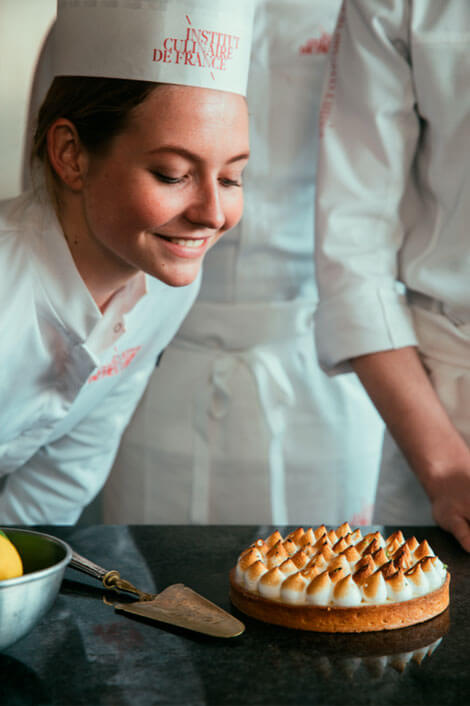 Requirements
This program is open to candidates with strong motivation and to people with previous work experience (job seekers, those changing careers...).
Applications
An application request must be made through the website. Within the next 48 hours, the candidate will receive an invitation for an interview, either in person or video-conference (Skype). The candidate will be informed about the results following the interview.
Admissions
A registration form will be sent to successful applicants. The form must be filled and returned to Institut Culinaire de France within 30 days, along with required documentation.
Visa application
Once his admission is confirmed, the candidate will be issued an acceptance letter. This letter is required for his visa application in the French consulate in the applicant's respective country. According to French law, any stay longer than 90 days requires a long-term visa. However, depending on his nationality, a visa may be required for any length of stay. This procedure might take a considerable amount of time. Therefore, we advise the future students to start their visa application upon the receipt of their acceptance letter.