Location:
Bordeaux
Graduation School diploma
Duration: 2 months + 1-month internship
Taught in
English
"Snacks Made in France" is a short, intensive program aimed at first-time students and to people changing careers.
This 2-month program explores new trends in balanced meals, taking into account food allergies and new consumer trends.
The students learn how to make over thirty sandwich recipes: open sandwiches, quiches, salads and savory pies to satisfy the growing demand in the "takeaway" market sector. They learn about new and evolving trends in the snacking sector and how to diversify and constantly update their offerings. Student creativity is strongly encouraged and our chefs will guide them in the creation and personalization of new recipes.
Food allergies are also taken into account and our students will learn how to best serve this growing segment of consumers. Our teaching chefs will share many gluten-free and lowsugar recipes with trendy textures and appearances. They will also pass on tips and "tricks of the trade" on how to design recipes and optimize them for easy, time-saving production.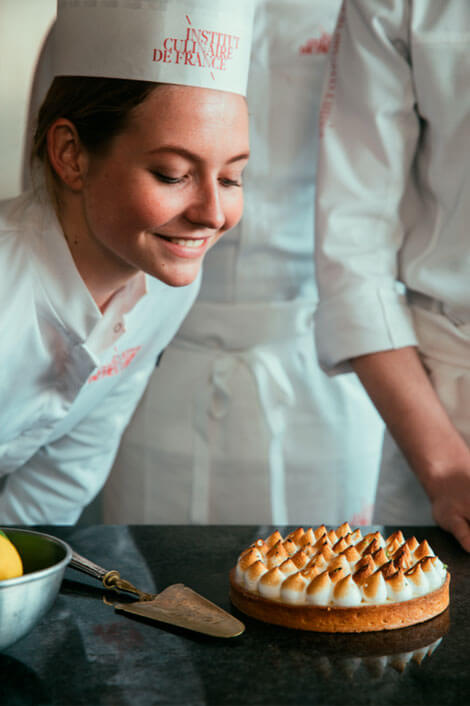 Requirements
This program is open to candidates with strong motivation and to people with previous work experience (job seekers, those changing careers...).
Applications
An application request must be made through the website. Within the next 48 hours, the candidate will receive an invitation for an interview, either in person or video-conference (Skype). The candidate will be informed about the results following the interview.
Admissions
A registration form will be sent to successful applicants. The form must be filled and returned to Institut Culinaire de France within 30 days, along with required documentation.
Visa application
Once his admission is confirmed, the candidate will be issued an acceptance letter. This letter is required for his visa application in the French consulate in the applicant's respective country. According to French law, any stay longer than 90 days requires a long-term visa. However, depending on his nationality, a visa may be required for any length of stay. This procedure might take a considerable amount of time. Therefore, we advise the future students to start their visa application upon the receipt of their acceptance letter.